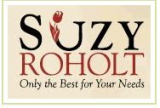 Simply the Best
In Every Aspect of Her Life, Suzy Roholt Never Accepts Less Than Her Best Efforts.
"Always Do Your Best." It was timeless advice Suzy Roholt received from her parents. As a child, she was inspired by their work ethic and ability to provide for their family. From being an example to her four younger sisters to reaching the top of her industry,
Suzy applied her parent's work ethic and made it her own. It's the same drive that she brings into everything she does.
A Strong Foundation
Little did her parents know, but their encouragement early on inspired Suzy to never stop reaching for the top. After establishing herself as a successful entrepreneur, Suzy was recruited by an elite fashion company in New York City. Although she was propelled into the fast-paced, big city life, Suzy relied on her values and continued to give her all.
This approach sustained a 30-year career in national sales, where she was often named the company's top salesperson.
Up the Ladder
Always in touch with her small-town values, when Suzy visited Franklin on a routine sales call, something about the town spoke to her. She instantly felt at home and connected to the people here. While the New York City and corporate lifestyle was exciting, Suzy saw the best of her in Franklin and was determined to move here.
Once she and her husband, Bruce, did, they quickly established their prospective businesses in the community and began making lasting relationships. "I'm at my peak when I can improve the lives of my neighbors and the community at large."
Simply the Best
Suzy's conscious decision to always do her best is the driving force of her real estate career. She thrives on going above and beyond for her clients. By providing stellar service and market expertise, Suzy is helping people in the Franklin area go further with their real estate investments.
She brings a higher standard of service excellence because you deserve only the best for your needs. For sellers, Suzy helps you with complicated staging techniques. She is equipped with a design team dedicated to showcasing your property in its best light. For buyers, she's determined to help you find the perfect home for you and your family. Whether you're purchasing for the first time or hoping to upgrade your current status, let Suzy help guide you in that process.
When the time comes to move in Franklin, you deserve Only the Best for Your Needs.
Suzy Roholt provides the ultimate customer service and market know-how. She's helping you move forward in this area because she's giving her all for your success. Call Suzy today.